Swimming Pool
THE POOL IS OPEN FOR THE 2022 Season Beginning May 28, 2022
Hours of Operation:
Monday through Thursday - 11:00 a.m. to 9:00 p.m.
Friday through Sunday - 11:00 a.m. to 7:00 p.m. (Pool Parties will be scheduled from 7:00 p.m. to 9:00 p.m.)
Daily Entry Fees:
Ages 3 and under: Free
Ages 4 to 54: $4.00
Ages 55 and up: $3.00
Season Passes (to be purchased at the pool office)
Individual Pass: $65.00
Family (up to 4 members): $130.00
Each additional member added to the family pass: $10.00
Pool parties can be scheduled by contacting the Eagle Pool at 402-781-2216
Contact Info
Eagle Swimming Pool
402-781-2216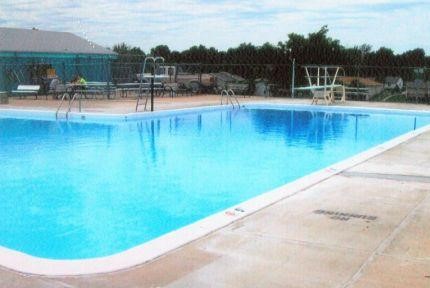 Frequently Asked Questions
Does the Eagle Pool offer swimming lessons?
Not at this time.
Can we bring toys into the pool?
No, outside toys are not permitted. Pool noodles, kick boards, and other toys are available in the pool office.
Is food allowed at the pool?
Yes, food can be brought into the pool. However, food and beverages (except water) must remain inside the designated food area. Sunflower seeds are PROHIBITED!
Does my child need to be a certain age to enter the pool alone?
No swimmers under the age of 10 years old will be allowed, unless accompanied by an adult or guardian 14 years of age or older.